International Crankshaft, Inc. Wins Its First General Motors "Supplier of the Year" Award
Mar. 17, 2015

Nippon Steel & Sumitomo Metal Corporation


International Crankshaft, Inc. Wins Its First
General Motors "Supplier of the Year" Award
International Crankshaft, Inc. (ICI), a subsidiary of Nippon Steel & Sumitomo Metal Corporation (NSSMC) which forges automobile crankshafts in the U.S., has been awarded the 2014 General Motors Supplier of the Year Award.
Suppliers of the Year Award winners are recognized for delivering innovative technology and superior quality. This is the first GM Supplier of the Year Award for ICI. ICI believes that it has been recognized for its proactive global actions to support GM with its group companies including Japan and India.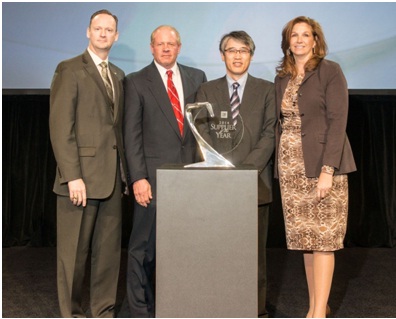 From left: Mr. Daniel E Nicholson, GM's Vice President Global Powertrain
Mr. Bill McCurley, ICI's Vice President
Mr. Nobu Masuda, ICI's President
Ms. Beverly J Gaskin, GM's Executive Director Global Purchasing - Powertrain
ICI has been in business in the U.S for more than 20 years. ICI has been growing due to robust demand in North America; it is increasing its market share, primarily because of its capability as a reliable supplier such as proposals for improved engine design, high quality, stable operation, and on time delivery. A fourth forging line is planned to be operational this fall, raising ICI's production capacity to around 4 million crankshafts annually.
NSSMC has four crankshaft forging businesses worldwide: Japan, U.S., China, and India. Its total global capacity is 11 million crankshafts, representing about 10% of the global market. NSSMC is expanding its global business, sharpening technological capabilities and cost competitiveness, and will keep responding to growing needs in the global automobile market.
【Outline of International Crankshaft Inc. (as of the end of February 2015】
Corporate name:
International Crankshaft Inc.

Location

101 Carley Court, Georgetown, Kentucky 40324, U.S.A.
Established
February 1990 (Start of production: April 1992)
President
Nobuaki Masuda
Capital
US$22,000
Shareholders
NSSMC (80%), Sumitomo Corporation (20%)
Production lines

First forging line (6,000T press)
Second forging line (7,000T press)
Third forging line (6,000T high-speed press)

Annual capacity
Approximately 2.7 million crankshafts

Team members
Approximately 250