NSSMC's Titanium Alloy Is Adopted in Connecting Rods of Supersport Motorcycles
Dec. 07, 2014

Nippon Steel & Sumitomo Metal Corporation


NSSMC's Titanium Alloy Is Adopted in Connecting Rods of Supersport Motorcycles
The Super-TIX
TM
51AF of Nippon Steel & Sumitomo Metal Corporation (NSSMC, Representative Director and President: Kosei Shindo) has been adopted for connecting rods, which are engine parts, of YZF-R1 and YZF-R1M, new supersport motorcycle made by Yamaha Motor Co., Ltd.
Super-TIX
TM
51AF, NSSMC's proprietary Al-5%, Fe-1%, Ti-based alloy, which has comparable strength to the conventional and the most widely used Al-6%, V-4%, Ti-based alloy, is superior in hot workability and machinability. Such superior material properties have enabled to reduce the production costs through high productivity in the manufacturing process, and to realize the use of titanium in a mass production process. The connecting rod converts reciprocating motion of the piston into rotating motion of the crankshaft and reducing the weight of the connecting rod contributes to overall reduction in weight and horsepower loss of the engine. In addition, the Super-TIX
TM
51AF does not contain vanadium, which is categorized as a rare metal, but iron and aluminum, which are categorized as common metals, thus contributing to smarter use of precious resources.
Titanium is light, strong, and highly resistant to corrosion. By taking advantage of those properties, NSSMC has contributed to weight reduction of engine parts. NSSMC intends to expand adoption of titanium products to more motorcycles and four-wheel vehicles.
Connecting rod made from NSSMC's titanium alloy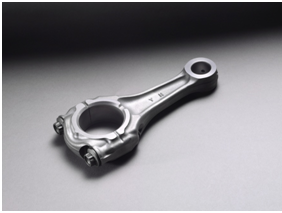 Yamaha YZF-R1 featuring titanium alloy connecting rods