India's Automotive Cold-rolled Steel Sheet Plant Celebrated Its Opening
Sep. 2, 2014

Nippon Steel & Sumitomo Metal Corporation


India's Automotive Cold-rolled Steel Sheet Plant Celebrated Its Opening
In January 2011, Nippon Steel and Sumitomo Metal Corporation (NSSMC) (Representative Director and President: Kosei Shindo) and Tata Steel Limited (TSL) (Managing Director: T.V. Narendran) agreed to form Jamshedpur Continuous Annealing & Processing Company Private Limited (JCAPCPL), a joint venture company for manufacture and sale of automotive cold-rolled sheets. Construction of a plant soon followed. In May 2014, JCAPCPL began operation, and on September 1, 2014 held an opening ceremony at the plant site. The ceremony was attended by government officials, customers, and other invited parties.
JCAPCPL can produce high-tensile steel sheet and other high-end cold rolled sheets for automobiles as it utilizes TSL's excellent steelmaking infrastructure atJamshedpur Works and NSSMC's state-of-the-art equipment and manufacturing technologies.
The automobile market in India, with its bright prospects for continued growth, is an important market for NSSMC and TSL. Through this joint venture, both companies will strive to respond to Indian automakers' needs for high-grade high-quality automotive steel sheets.
[Outline of JCAPCPL]
Location:
Jamshedpur Works of TSL
Jamshedpur, State of Jharkhand, India
Business:
Manufacture and sale of automotive cold-rolled steel sheets

President:
CV Sastry (dispatched from TSL)

Vice President:

Hiroshi Tsuchiya (dispatched from NSSMC)

Capital:
INR9.3 billion

Equity ownership:
TSL 51%, NSSMC 49%
Major facilities:

Continuous annealing and processing line (C.A.P.L,)
Production capacity:
600,000 tons/year
Capital investment:
Approximately INR22 billion (approx. 37 billion yen)
Operation:
Began in May 2014

Employees:

Approximately 300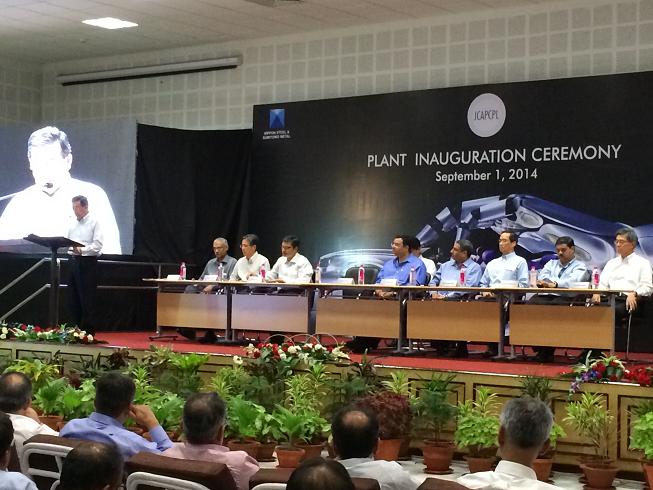 Opening Ceremony
[Reference: Outline of Tata Steel Limited]
Establishment:
1907
Chairman: 
Cyrus P. Mistry
Managing Director:

T.V. Narendran
Head office:
Mumbai, State of Maharashtra, India
Capital:
INR 8.87 billion (Approximately 15 billion yen)
Products
Steel sheets, shaped steel, bars, wires, electro-resistance-welded tube,
and others
Sales volume:
8.52 million tons (parent-base), 26.36 million tons (consolidated-base)
For inquiries, please contact:
Public Relations Center, General Administration Div.
Tel: +81-3-6867-5807, -2135