Mass Production of Automotive Parts by Direct-Water-Cooling HOT PRESS Forming
May. 20, 2013

Unipres Corporation
Nippon Steel & Sumitomo Metal Corporation

Mass Production of Automotive Parts by Direct-Water-Cooling HOT PRESS Forming
High Productivity of HOT PRESS Forming, Greater Competitiveness
Unipres Corporation (Head office: Yokohama City, Kanagawa Prefecture, President: Masanobu Yoshizawa, "UNIPRES") and Nippon Steel & Sumitomo Metal Corporation (Head office: Tokyo, Chairman & CEO: Shoji Muneoka, "NSSMC") have jointly succeeded in mass production of automotive parts by HOT PRESS forming with Direct-Water-Cooling method.
From the standpoint of environmental preservation of the earth, CO2 reduction (fuel economy) is imperative, and moving to reduce weights of auto bodies are being accelerated extensively. On the other hand, high-strength steels of such a class as would usually frustrate cold press-forming need to be used to protect passengers at times of collision. HOT PRESS forming, responding to this situation, has come to be employed worldwide.
The new type HOT PRESS forming using Direct-Water-Cooling assures a substantial improvement in productivity and, in this sense, has become more environmentally friendly.
The HOT PRESS forming, proper, proposes to obtain high-strength products by the forming of high-temperature-heated steel sheet and by the simultaneous rapid cooling within the dies, for quenching. As compared with the cold press forming, higher-strength and high-dimension accuracy of parts can be obtained by the HOT PRESS forming. However, there was an issue. Productivity declined by as much time as was needed for cooling (quenching).
The existing HOT PRESS forming seeks an indirect cooling of steel sheet steel, by the flow of cooling water through the inside of the dies. Whereas, the new Direct-Water-Cooling HOT PRESS forming, put to practice this time, in addition to ordinary cooling way ejects from the die surfaces the cooling water, which, flowing through the space between the die-surface and the steel sheet panel, cools the steel directly. Direct-Water-Cooling means productivity improvement about three times that of the existing indirect one. Using the fundamental technology developed by NSSMC, and working together, Unipres R & D Co., Ltd, a subsidiary of UNIPRES, and NSSMC have realized this mass-production method.
In mass production, variations in product-quality (accuracy of part dimension) due to rapid cooling posed a problem. But, the advanced dies technology of UNIPRES, combined with the joint work on the routing of feeding & discharging water and the appropriate flow-rate control, has produced levels of quality and strength which are equal to those by the existing HOT PRESS forming.
This time, applying this new method, we have begun the mass production of auto-body structual parts for Nissan Motor Co., Ltd. We are going to work towards an expansion of this method.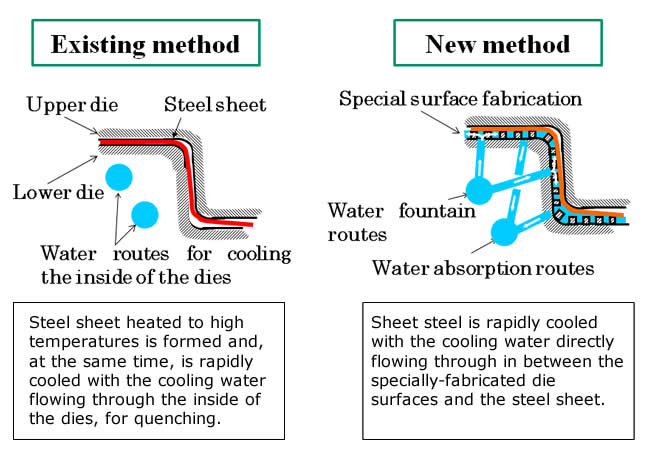 For more information, please contact:
Unipres Corporation
Public Relations & IR Dept., General Administration Div.
Tel: +81-45-470-8755
Nippon Steel & Sumitomo Metal Corporation
Public Relations Center, General Administration Div.
Tel: +81-3-6867-2977, -2135