Operation of new melting furnace (EB furnace) at Naoetsu Works
Apr. 09, 2013

Nippon Steel & Sumitomo Metal Corporation


Operation of new melting furnace (EB furnace) at Naoetsu Works
Nippon Steel & Sumitomo Metal Corporation (Shoji Muneoka, Chairman and CEO, and hereinafter referred to as "Company") has started operation of the new electron beam refining furnace (EB furnace), which has been newly equipped in Naoetsu Works. This EB furnace can melt titanium scraps in certain type as well which was difficult to be melted in the vacuum arc remelting furnace (VAR furnace) due to restriction in dimension and shape of scraps to be charged in a furnace. The EB furnace can be used to recycle and effectively use titanium-an advanced metal-and contributes to enhance the competitiveness of titanium production.
The EB furnace is used to melt materials, such as titanium scraps and sponge titanium, by thermal reaction caused with the electron beam emission. Theoretically, there is no restriction in composition or dimension/shape of the material. However, in practical operation, it is difficult to control the composition of cast ingot, thus the conventional EB furnace had dimensional restriction of scraps to be charged in a furnace.
For the new EB furnace introduced by the Company, we have developed a unique technology which makes uniformity in composition of the titanium ingot regardless of the material composition or size, and moreover, carefully designed the configuration of the material feeding device to thereby eliminate restrictions of dimension/shape when using scrap in operation. This is based on the Company's technologies and experiences of melting, refining and solidifying which have been accumulated in the field of steelmaking for long time, in particular, the thermal fluid analysis technique by the numerical simulation has been used.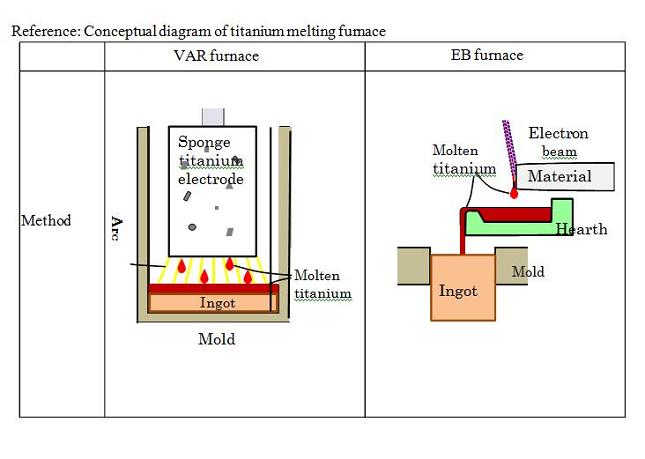 Outline of new furnace
(1) Investment amount: Approx. 2 billion yen
(2) Loacation: Naoetsu Works of the Company (Joetsu City, Niigata Prefecture)
(3) Installation and start of operation: September, 2012
The new EB furnace substantially improves the recycling rate of titanium scrap. The Company equipped this facility, and has been selected for and supported by the subsidy for promotion to advance industries using rare metal from the Ministry of Economy, Trade and Industry, 2010.
For inquiries
Public Relations Center, General Administration Division
Tel: 81-3-6867-2146