"Smart-Beam" Method Adopted for Three-story Wood-frame House
Mar. 07, 2013

Nippon Steel & Sumitomo Metal Corporation


"Smart-Beam" Method Adopted for Three-story Wood-frame House
--- Steel's Toughness Realizing Wide Spanning Space---
The "Smart Beam" method for wood framework, jointly developed by Nippon Steel & Sumitomo Metal Corporation and TATSUMI, a leading maker of metal construction fittings, has met the rating standards for wood-based house construction of The Building Center of Japan and has been used, for the first time, for a three-story wooden house.
The "Smart Beam (brand name: SMart BEAM®) " method uses welded light-gauge steels for beams and connects them to lumber, using standardized metal fittings.
This steel-using construction method offers the following advantages:
-With steel's higher strength and rigidity per sectional area, as compared with wood,
this method permits a wide span (8m maximum).
-Smaller beam height makes it possible to increase ceiling height.
-In cases of houses to be built in urban areas, where rigid setback regulations are in force,
eaves height can be held down, while maintaining comfortable ceiling height.
-With little if no aging occurring in steels, this method is effective in preventing the floor from
creaking due to creeping of wood.
-This method being compatible with the conventional wood-frame & metal-work construction
method, metal works may be executed conventionally, substituting "Smart Beams" for some of
the wood beams, as they are.
Earlier on, the "Smart Beam" method used to be rated within the limited range of one-story and two-story houses. But, with the new rating obtained in July 2012, houses three stories high or less can be built, using this method. The use of "Smart Beam" is also permitted for tie beams. Thus, the range of "Smart Beam" applications has been greatly enlarged.
After this new rating, the first case of application was a three-story model house built by Noble Home (Mito City), a builder of custom-built wooden houses. This model house, by using 5.5m-long Smart Beams, wide-spanning space of 16.3 living room, difficult in a conventionally built wooden house, has been realized. Against the background of mounting interest in recent years in plans that can offer spacious room, even in wooden houses, Noble Home adopted Smart Beams method for this model house.
We are going to actively promote the spread of the Smart Beam construction method by making proposals for spacious detached-houses and also large wooden structures requiring wide-spanning space, such as health care facilities for the elderly.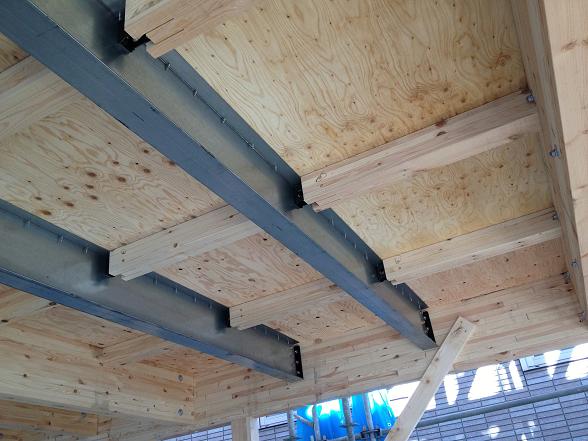 Smart Beams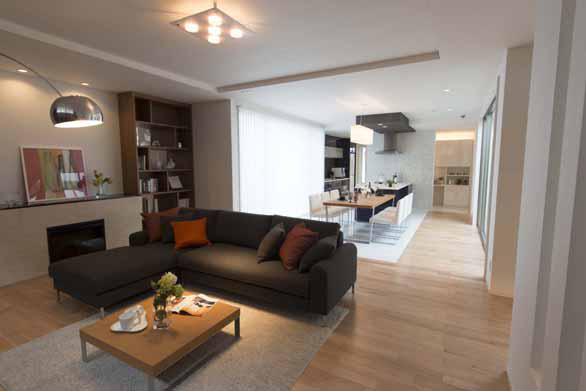 Inside of the three-story model house, built by Noble Home
(opened in the Mito Akatsuka housing park, on February 16.)
For inquiries:
Public Relations Center, General Administration Div.
Tel: +81-3-6867-2135, -2976