First Adoption of SuperDyma(R) for Automotive Bodies
Feb. 28, 2013

Nippon Steel & Sumitomo Metal Corporation


First Adoption of SuperDyma(R) for Automotive Bodies
We propose and supply a great variety of sheet steels to auto makers. For HONDA's new ACURA "RLX" model to be put on the North American market in March this year, our highly corrosion-resistant galvanized steel sheet, SuperDyma(R), has been adopted for its door inner panels. This is the first case of SuperDyma(R) being adopted for automotive bodies.
The growing consciousness of global environmental preservation and the increasing rigors of impact-safety performance requirements of car bodies make it imperative for auto makers to achieve yet greater fuel economy (for CO2 emission control) by weight reduction. At the same time, for the sake of market competitiveness, it is required to maintain balance between weight reduction and cost.
This time, ACURA "RLX" used aluminum for door outer panels. To realize a hybrid door of characteristically dissimilar metals, combining light-weight aluminum outer panel with cost-wise better steel inner panel, appropriate parts needed to be designed and assembling methods developed. In addition, electrolytic corrosion, occurring when dissimilar metals are joined together, must be prevented. Hence the adoption of our highly corrosion-resistant galvanized steel sheet SuperDyma(R).
Having the surface with the alloy coating, mainly consisting of zinc and also about 11%alminum, about 3%magnesium, and a trace amount of silicon, SuperDyma(R) possesses excellent corrosion resistance, compared with conventional hot-dip galvanized steel sheet. Thus far, it has been used for housing, appliances, etc. This time, in HONDA's development of aluminum-steel-hybrid door structures for mass-production cars for the first time in the world, the coating of SuperDyma(R), affording better protection against progress of electrolytic corrosion in a case of joining steel to aluminum, as compared with steel sheets now in wide use, led to this adoption.
We continue to develop and supply high-function steel products to meet diverse needs of customers.
"RLX" for which SuperDyma(R) has been adopted (Courtesy, HONDA)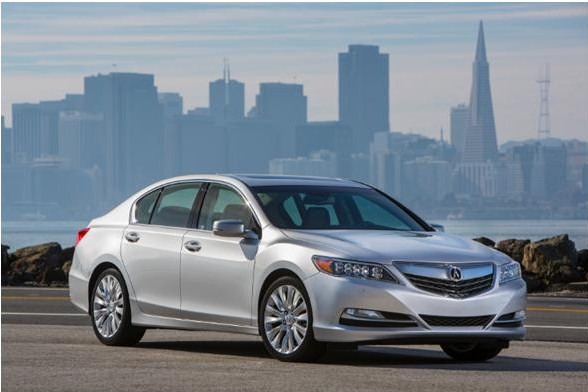 Door using SuperDyma(R) (Courtesy, HONDA)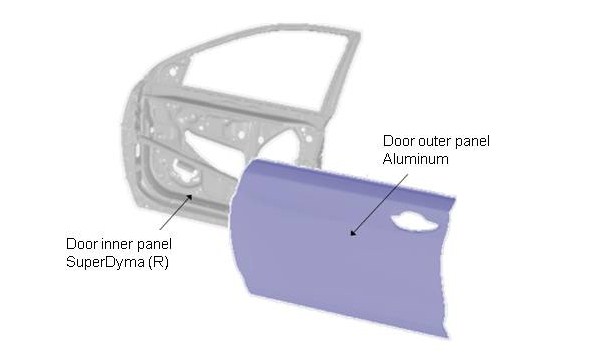 For inquiries
Public Relations Center, General Administration Div.
Tel: +81-3-6867-2135