23rd Nippon Steel & Sumitomo Metal Music Awards Winners Are Announced
Jan. 10, 2013

Nippon Steel & Sumitomo Metal Corporation


23rd Nippon Steel & Sumitomo Metal Music Awards Winners Are Announced
The winners of the 23rd Nippon Steel & Sumitomo Metal Music Awards (former Nippon Steel Music Awards) have been selected and announced as stated below.
23rd Nippon Steel & Sumitomo Metal Music Awards - Winners
≪Promising New Artist Award≫ Reward of three million yen
Lina Matsuda (Violin)
【Reason for Award】
Lina Matsuda is one of our young violinists with striking musical talent. She beautifully expresses each composition's distinctive features with enthusiasm and natural breathing. Her performance shows a sincere attitude toward music and gives no hint of showing off. This attitude was highly valued and part of the reason Lina has been selected as winner. The nomination committee wishes her to advance further to become a mature genuine violist. (Motoyuki Teranishi, Music Critic)
≪Special Award≫ Reward of one million yen
Takako Kurimoto (Mezzo-soprano)
【Reason for Award】
How could people imagine from Takako Kurimoto's singing that she is over 90 years old? Her voice is so transparent, glamorous, and as fresh as the breath of a maiden. She is still active and devoted to music, and her presence so overwhelming. I feel so honored to give the Special Award to Takako Kurimoto who deserves praise as a "miracle of today" or a "treasure in Japan music circles." I sincerely wish her to be eternal. (Hiroko Nakamura, Pianist)
The ceremony for presentation of the 23rd Nippon Steel & Sumitomo Metal Music Awards and a commemorative concert will be held at Kioi Hall (6-5 Kioi-cho, Chiyoda-ku, Tokyo) on July 17, 2013.
23rd Nippon Steel & Sumitomo Metal Music Awards - Promising New Artist Award
Lina Matsuda (Violin)
Lina Matsuda was born on September 30, 1985 in Kanagawa Prefecture. After graduating from the Music High School attached to the Faculty of Music, Tokyo University of the Arts, she studied at the soloist diploma course of the Toho Gakuen College Music Department. In 2006, she transferred to Hochschule für Musik Nürnberg-Augsburg in Germany, where she graduated at the top of the class in 2007 and top of the master courses in 2010.
In 1999 Lina held her first solo recital. In 2001 she received the 1st prize at the Japan Mozart Music Competition, Violinist Division, and was the youngest prizewinner in the competition. In 2002 she gave a solo recital on the theme of "A 16-year-old violinist plays Ysaÿe" at Toppan Hall. In 2004 she was awarded the first prize in the 73th Music Competition of Japan, concurrently receiving Leucadia Award, Sumi Award, and Kuroyanagi Award. In 2007 she received a Diploma in Pablo Sarasate International Violin Competition, the 12th Hotel Okura Music Award, and the Akiyoshidai Music Academy Award.
Lina has played with many prominent conductors and various orchestras including NHK Symphony Chamber Orchestra, Tokyo Symphony Orchestra, Tokyo Metropolitan Symphony Orchestra, Tokyo Philharmonic Orchestra, The Japan Philharmonic Orchestra, New Japan Philharmonic, Kanagawa Philharmonic Orchestra, Sapporo Symphony Orchestra, Osaka Philharmonic Orchestra, Janáček Chamber Orchestra, and Vietnam Symphony Orchestra.
Lina released her debut album "Dolce Lina - 2 Violin Sonatas etc." in 2006 and tickets were sold out for her nationwide tour. She then released "Carmen" which was jointly recorded with the great pianist Pavel Gililov in 2008, and "Ravel Live" which was recorded from a recital with a pianist Kazune Shimizu at the Kioi Hall in 2010. "Eugene Ysaÿe Sonatas for Solo Violin" recorded in 2010 was selected as the special selection by the Record Geijutsu magazine.
23rd Nippon Steel & Sumitomo Metal Music Awards - Special Award
Takako Kurimoto (Mezzo-soprano)
Takako Kurimoto was born on May 9, 1920 in Fukuoka Prefecture. She graduated from Tokyo Music School (present Tokyo University of the Arts) and studied under Ria von Hessert. Since her debut as Suzuki in "Madam Butterfly" in 1946, she has played major roles in numerous operas from baroque to modern works including "Le nozze di Figaro The Marriage of Figaro," Così fan tutte," "Der Rosenkavalier," "Carmen," "Die Fledermaus," "L'incoronazione di Poppea (The Coronation of Poppea)," Peter Grimes," and "The Old Maid and the Thief" in addition to Japanese works such as "Kurofune," "Kikimimizukin," and "Shuzenji Monogatari." Most of such operas she participated were performed in Japan for the first time.
Takako has also performed at various concerts. A solist for Beethoven's Sinfonie Nr. 9 that was played by NHK Symphony Orchestra is one of those examples. Since 1977, Takako sometimes holds a recital of Japanese songs. She is also a dedicated professor at Senzoku Gakuen College of Music.
At the recital titled "Great Masters; Artists who Have Supported Japanese Music Scenes" at the Kioi Hall in 2002, Takako's superb singing attracted audience. Her subsequent two recitals of Japanese songs were sold out.
As Ryosuke Hatanaka once stated "Takako Kurimoto's voice is a miracle of the Japan Music Circle," her singing fully expresses beautiful words, which are a key element of Japanese songs, and feelings behind them, and has augmented into an unexplored high level.
In August 2006, after her long years of performance, she released her first CD album "Ai to inori (Love and Prayer: Japanese songs to be sung from one generation to another)." Her almost ageless, fresh, powerful singing has impressed many listeners and has received a lot of attention and praise from various fields.
In May 2010, Takako gave a great performance at the 125th commemoration of the founding of her alma mater Fukuoka Jo Gakuin School. In July 2012 Takako released a CD album "Kiseki no Uta (Song of Miracles)" with a book on her life. She is also an honorary member of the Nikikai.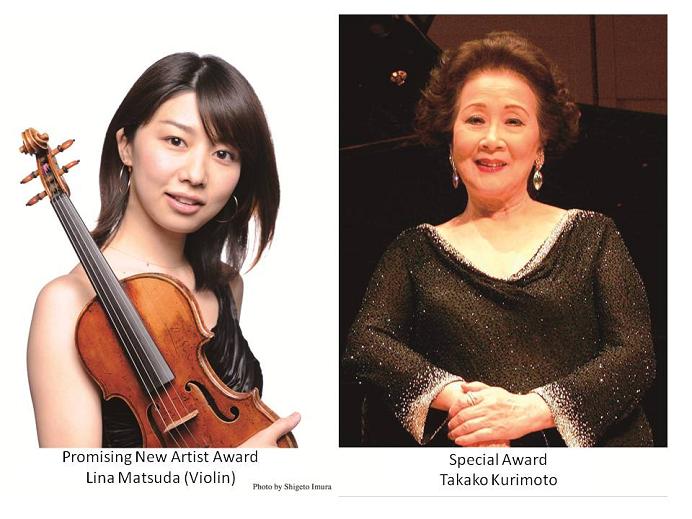 Nippon Steel & Sumitomo Metal Music Awards

The Nippon Steel & Sumitomo Metal Music Awards (renamed from the Nippon Steel Music Awards in October 2012) was established in 1990 to commemorate the 20th anniversary of the founding of Nippon Steel Corporation and the 35th anniversary of the broadcasting of the radio program titled "Shin-Nittetsu (Nippon Steel) Concert." The awards aim to encourage the future development of music culture in Japan and to support promising new musicians.

【Summary of Awards】
Promising New Artist Award [reward: 3,000,000 yen]
Promising New Artist Award is presented to promising young classical music performers. The nomination policy emphasizes musical talent and potential in addition to technique. From among the candidates who have been selected from a wide field, the best perfomer is selected for the award.


Special Award [reward: 1,000,000 yen]
Special Award is presented to individuals who have made contributions to the development of classical music, and who are active in classical music but not necessarily performers. Also this award may be presented to anyone who has made an outstanding contribution to the development of music culture.


【Nomination Committee】
[Members] Junji Suganuma (Professor Emeritus, Tokyo University of the Arts)
Motoyuki Teranishi (Music Critic)
Takehiko Tominaga (Music Journalist)
Takashi Momose (Music Critic)
Shinichiro Ikebe (Composer)
Hiroko Nakamura (Pianist)

[Advisor] Kiyotatsu Miyoshi (Music Critic)

【Selection Procedure】
Promising New Artist Award
The nomination committee is comprised of four music critics and journalists, and selects the winner.
Special Award
The nomination committee is comprised all members of the committee and advisor selects and selects the winner.

Nippon Steel & Sumitomo Metal Music Awards – Successive Winners
https://www.nipponsteel.com/en/ir/library/pdf/nscguide2012_e_103.pdf