NSSMC Receives Highest-Ranked "Best Partner Award" from Panasonic for A Second Consecutive Year
Nov. 02, 2012

Nippon Steel & Sumitomo Metal Corporation

NSSMC Receives Highest-Ranked "Best Partner Award" from Panasonic
for A Second Consecutive Year
Today, Nippon Steel & Sumitomo Metal Corporation (NSSMC) received from Panasonic Corporation the Best Partner Award, the highest of its kind, at the Panasonic Excellent Partners Meeting. NSSMC also received the Gold Award and the two Encouragement Award for ECO-VC (Value Creation) Initiatives on the same occasion. At the ceremony, Hiroshi Tomono, President & COO of NSSMC, made a presentation on behalf of all award-receiving companies.

The Best Partner Award is the highest-ranking award given to the only one company out of all companies receiving awards. The ECO-VC awards are given to suppliers of Panasonic Group companies that make particularly significant contributions to reducing CO2 emissions and making their products more competitive. There were 866 such contributions from suppliers this year. NSSMC has been given the Best Partner Award for two consecutive years and the ECO-VC awards for four consecutive years.
1. Award Themes
(1) "Best Partner Award" received by NSSMC
We were highly evaluated for enhancing product competitiveness by developing superior materials and products based on our technologies and taking ECO-VC initiatives for many products, through our long-term partnership and our customer-oriented activities.
(2) "ECO-VC Gold Award" received by NSSMC and Sumitomo Light Metal Industries, Ltd.
■ Development of aluminum under-frame for large-size LCD TV units
We have developed a low-cost aluminum alloy under-frame, which is a key component of the LCD TV unit, with the aim of making it possible to produce thinner large-size LCD TV units, saving energy, and reducing component costs. We were highly regarded because NSSMC's long-accumulated Computer Aided Engineering (CAE) technologies and Sumitomo Light Metal's aluminum sheet manufacturing technologies had been combined and contributed to commercializing the slim-design "Smart VIERA." This achievement resulted in 40% reduction in CO2 emission.
(3) ECO-VC Encouragement Awards received by NSSMC
■ Specification change of HS (Hyper Space) proof-strength ATACK (Anti-Tense, Anti-Compress K) Frame
Our unique buckling-restrained technology that has been used in high-rise buildings was first applied to housing as the HS proof-strength ATACK Frame. This time, we have upgraded this ATACK Frame with the aim of reducing both weight and cut. The buckling restrained brace works to sandwich and restrain the core steel with other steel material or concrete and to prevent buckling and make it more stable to be formed. We have combined this brace with the HS method, that PanaHome Corporation of the Panasonic Group has developed to achieve superior seismic resistant performance and flexible use in housing applications, and have contributed to its revision of its specifications by using our original model analysis technology. This spec change has led to 116 ton (3%) annual reduction in CO2 emission.
■ Weight reduction and resource savings by thinner clad materials for the inner cooking bowl of the induction heating (IH) rice cooker
We have worked on making bonding of thin wide coils more stable by using clad materials, which are indispensable for the inner cooking bowl of the IH rice cooker. We have in particular used numerical analysis to optimize the bonding pressure distribution when rolling the materials. We have thus established the mass production technology that enables to fully use manufacturing capacity for this product. In addition, we have established the technology to control thickness of copper, which is suitable for thin sheet materials, and reduced the thickness of the copper bowl layer from 2.0 mm to 1.45 mm, succeeding in the average 30% material weight reduction. This has also contributed to 34% in CO2 emission for manufacturing inner bowl materials.
2.Future development
We will continue to pursue the immense potentials of steel and analyze materials up to the atom level by applying our simulation technology. That is how we plan to develop new optimal materials and respond to customers' requests. We will also use our global network and help customers expand globally.                    
3.Award accomplishments




FY2009

FY2010

FY2011

FY2012

Best Partner Award

1

1

ECO-VC Gold Award

4

1

1

ECO-VC Silver Award

1

1

ECO-VC Bronze Award

1

ECO-VC Encouragement Award*

-

2
* ECO-VC Encouragement Award was newly established this year.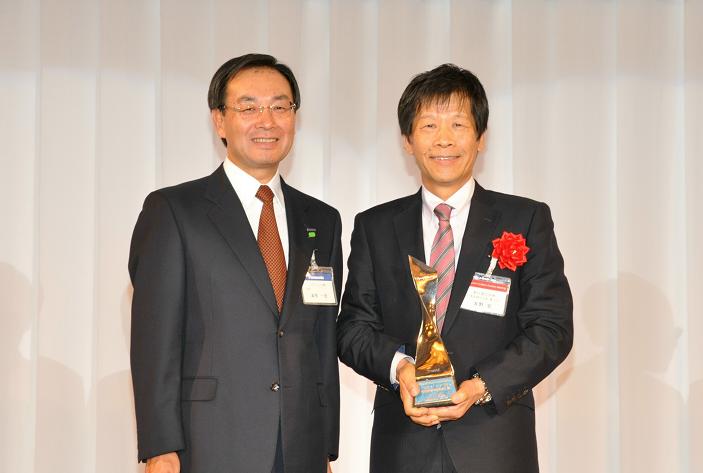 Dr. Hiroshi Tomono (President & COO of NSSMC) received from Mr. Kazuhiro Tsuga ( President of Panasonic Corporation) the Best Partner Award.
For inquiries:
Public Relations Center, General Administration Division TEL: +81-3-6867-2977