Usiminas Celebrates Completion of New Hot Rolling Line at Cubatão Works
Nov. 01, 2012


Nippon Steel & Sumitomo Metal Corporation
Usiminas Celebrates Completion of New Hot Rolling Line at Cubatão Works
On October 31, Usiminas (president: Julián Alberto Eguren), an equity method affiliated company in Brazil of Nippon Steel & Sumitomo Metal Corporation (chairman & CEO: Shoji Muneoka, hereinafter, referred to as "NSSMC") celebrated at its Cubatão steel works the completion of a new state-of-the-art hot rolling line.

The completion ceremony was attended by Minister of Development, Industry and Trade Fernando Damata Pimentel; the Governor of Sao Paulo; Japanese Ambassador to Brazil Mr. Akira Miwa; the Mayor of Cubatão; and other honorable guests, as well as by Chairman Penido and President Eguren of Usiminas, Corporate Officer Uchida and Senior Advisor Iriyama of NSSMC, and many other persons concerned.



Summary of the Press Release by Usiminas on October 31

Today, we have celebrated the completion of the No. 2 hot rolling line at our Cubatão steel works.

Establishing a supply system to cope with increasing demand:
The No. 2 hot rolling line has a production capacity of 2.3 million tonnes a year. Through this increase in our production capacity, we will develop a production system capable of coping with the increasing demand for hot-rolled steel sheets for line pipes, automobiles, construction, and other industries in Brazil.

Enhancing high-quality steel production capacity by introducing state-of-the-art technologies:
The No. 2 hot rolling line will be able to respond to the need for innovation regarding customer requirements in a more appropriate manner, as it is equipped with greater flexibility to cope with different product sizes than the No. 1 hot rolling line and with the increasing production capacity for high-quality steel, including high-tensile-strength steel sheets* for the automotive sector and line pipes with high strength, thickness, and width for the energy sector.

* High-tensile-strength steel sheets: High-strength steel sheet capable of realizing the reduced body weight and improved collision safety required of automobiles

As mentioned above, we are confident that, with the No. 2 hot rolling line becoming operational, Usiminas will be able to further contribute to the improvement of the competitiveness of Brazilian industries.
Reference:
Capital expenditure: 2.5bn R$
Annual production capacity: 2.3 million tonnes
Plate thickness: 1.5-20 mm
Plate width: 750-2,050 mm
Maximum coil individual weight: 35 tonnes


Usiminas, which was founded in 1958 with financial assistance from Japan and technical cooperation from NSSMC and other Japanese enterprises and put its No.1 Blast Furnace into operation in 1962, marked the 50th anniversary of its commencement of operation on October 26, 2012. With its long history and tradition, Usiminas is one of the leading steel manufacturers in South America in terms of production capacity and technological level.
In recent years, Usiminas has made large-scale investments in its high quality steels production facilities, including an expansion of its production capacity of automotive steel plates by establishing a new CGL in Unigal, a zinc-coated steel plate manufacturing joint venture established with NSSMC, and construction of a new hot strip mill in Cubatão. Besides introducing new production technologies for high quality steel plates from NSSMC to cope with the increasing demand in energy and shipbuilding sectors to capture the promising demand for high quality steel in the South American market, Usiminas has acquired iron mine concessions and made investments to expand them, and is expected to make further development.
While the business environment surrounding Usiminas continues to be harsh due to increased global competition among the steel manufacturers, NSSMC is determined to make efforts to further enhance the corporate value of Usiminas, as an important base for NSSMC's global strategy, by making the best use of its technological advantage and improving its cost competitiveness in cooperation with the Ternium Group, which joined the management of Usiminas earlier this year, and Usiminas employees.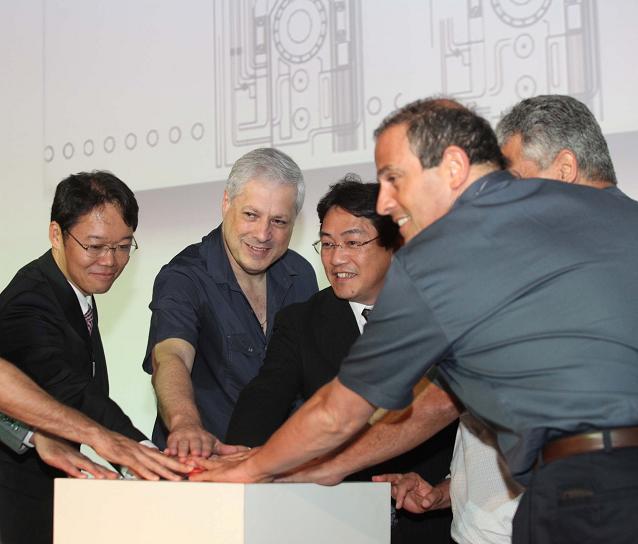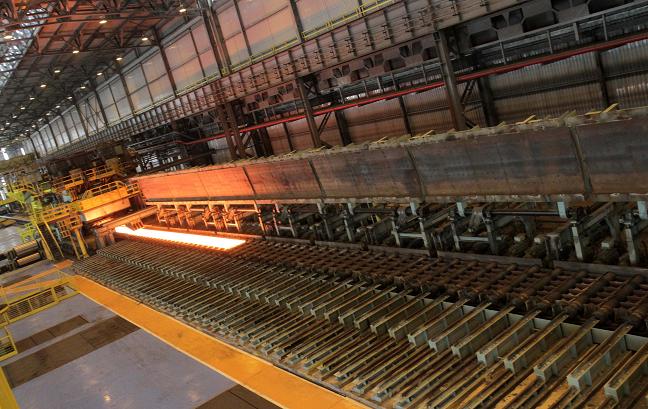 Contacts: Public Relations Center, General Administration Division
TEL: +81-3-6867-2146,2147,2976
[Reference: Outline of Usiminas]
1. Name in English: Usinas Siderúrgicas de Minas Gerais S.A. - Usiminas,
Abbreviation "USIMINAS"
2. Description of business: Production and sale of steel products in South America and other areas
3. Locations: Head Office in Belo Horizonte, MG, Brazil
Steel works in Ipatinga, MG. and Cubatão, SP.
4. CEO: Julián Alberto Eguren
5. Capital: R$12,150 million
6. Net Sales: R$11,902 million (2011, consolidated)
7. Net income after tax: R$404 million (2011, consolidated)
8. Production: 670 million tons of crude steel (2011)
9. Start of operation: October 26, 1962 (Founded in January 1958)