Third-party Opinion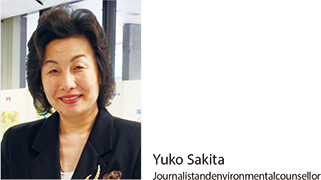 Overall environmental management
I was struck by a subtitle "Together with SDGs" on the cover of this Sustainability Report 2018, and took it as a clear indication of Nippon Steel's commitment to contributing to a sustainable future.
The global population has exceeded 7 billion and is expected to reach 9.8 billion by 2050. Increased activities of people have significant impacts, such as climate change, depletion of natural resources, crises of bio-diversity, and other environmental problems as well as serious problems concerning food, education, human rights, labor, and other issues.
Moreover, as mentioned in "A Message from Top Management," great waves of long-term, structural changes are now washing over society and industries. IoT and other IT innovations are realizing Society 5.0 while particularly in Japan, regional revitalization is much desired to solve problems of the aging of the population and declining birthrate, as well as weakening of depopulated regions. Against such a background, I complement Nippon Steel's declaration to "Create the value of steel, while contributing to society by providing steel."
In the 2020 Mid-Term Management Plan announced in March 2018, Nippon Steel stated it will particularly focus on environmental management by "aggressively addressing to environmental issues from a local level up to a global level and contributing to the achievement of a sustainable society." I highly regard the accuracy of its viewpoint as a company being in key basic industries supporting Japan and as an energy-consuming company that has always pursued the best available environmental measures.
Specifically, looking at "Nippon Steel Group's Long-Term History of Innovation through Steelmaking," I became aware that Nippon Steel has a history of technological development in response to requests from user companies on matters of environmental performance and enhanced safety measures since the 1960's when steel supported high economic growth in Japan.
Along with market growth and user companies' overseas expansion, Nippon Steel too has established overseas production bases. Today overseas business represents 35% of Nippon Steel's total sales in its main steelmaking business and four other areas, and domestic business represents 65%. This means that Nippon Steel has firmly established a management base for contributing to the sustainability of the world through steel.
From the perspective of the 17 Sustainable Development Goals (SDGs) adopted by the United Nations in 2015, Nippon Steel's measures are well balanced from economic, environmental, and social aspects. Going forward, if similar checking on idiosyncratic and harmonious management is conducted within each country or by each steelwork and office in Japan, I foresee that Nippon Steel will get a clearer picture on contribution to local communities.
This Sustainability Report emphasizes that steel is an optimal recyclable material to be reborn many times in whatever form is needed during an era focused on efficiency in resources. I would like to encourage Nippon Steel to further pursue both aspects of the significance of steel: namely the recyclability and the development of advanced steel products, such as stainless steel to be used for high-pressure hydrogen stations.
Specific environmental management measures
Nippon Steel adopts a mid-term management plan every three years and effectively follows the plan-do-check-act (PDCA) management cycle. It also contributes to the world by promoting three ecos, namely, Eco Process, Eco Products, and Eco Solution, and innovative technology development. I would like to see this stable approach to be continued for many years to come.
Under the Paris Agreement, a global agreement on alleviating climate change, Japan has pledged to cut greenhouse gas emissions by 26% from the fiscal 2013 level by fiscal 2030. This is not a final goal and the next target of 80% reduction by fiscal 2050 has also been planned. I believe that Nippon Steel's initiatives begun up to now could enable it to reach the 2030 target, but the 2050 target might be difficult to achieve.
I am anticipating Nippon Steel, as a company consuming about 5% of Japan's total energy consumption, takes up further challenges with COURSE50, which promotes technology development for drastic CO2 emission reduction in steel production. I sincerely hope that Nippon Steel will show a problem-solving model in the world steel industry by using the technology to reduce iron ore using hydrogen amplified coke oven gas to curb CO2 emissions in steelmaking process from blast furnaces, raising efficiency in the CO2 separation and collection processes, pursuing potential use of hydrogen, and other developments.
Toward the realization of a recycling-oriented society, Nippon Steel has promoted in-house zero emissions by recycling 99% of internally-generated by-products. This is very impressive. Nowadays, elimination of plastic waste is becoming a global issue. It is important to collect and recycle waste plastics of not only container packages but also various products. In promoting the 3R campaign (Reduce, Reuse and Recycle), recycling of plastic materials through chemical recycling plays an important role in society.
In response to the Revised Air Pollution Control Act, Nippon Steel, as a member of the Japan Iron and Steel Federation, helped establish a scheme to evaluate and disclose the status of achievement of voluntary management standard concerning mercury concentration by regularly measuring the amount. I praise this response to chemical substance risks.
In the areas of biodiversity, Nippon Steel has for many years been undertaking the creation of hometown forests based on natural, native vegetation of the vicinity of a steelworks, restoring nature, including animals and plants. In recent years, Nippon Steel has launched new initiatives, such as the Creation of Sea Forests, to further social contribution. I would like to encourage continuation of these great efforts.
Social reporting
Last but not least, engagement with stakeholders, or cooperation with all types of stakeholders, is important to be trusted in society. I understand that Nippon Steel has prohibited as unjust the discriminatory treatment of workers based on nationality, race, belief, creed, gender, and disability. I would like Nippon Steel to incorporate an international perspective, by reflecting the United Nations' Guiding Principles on Business and Human Rights, for example.