Message from the President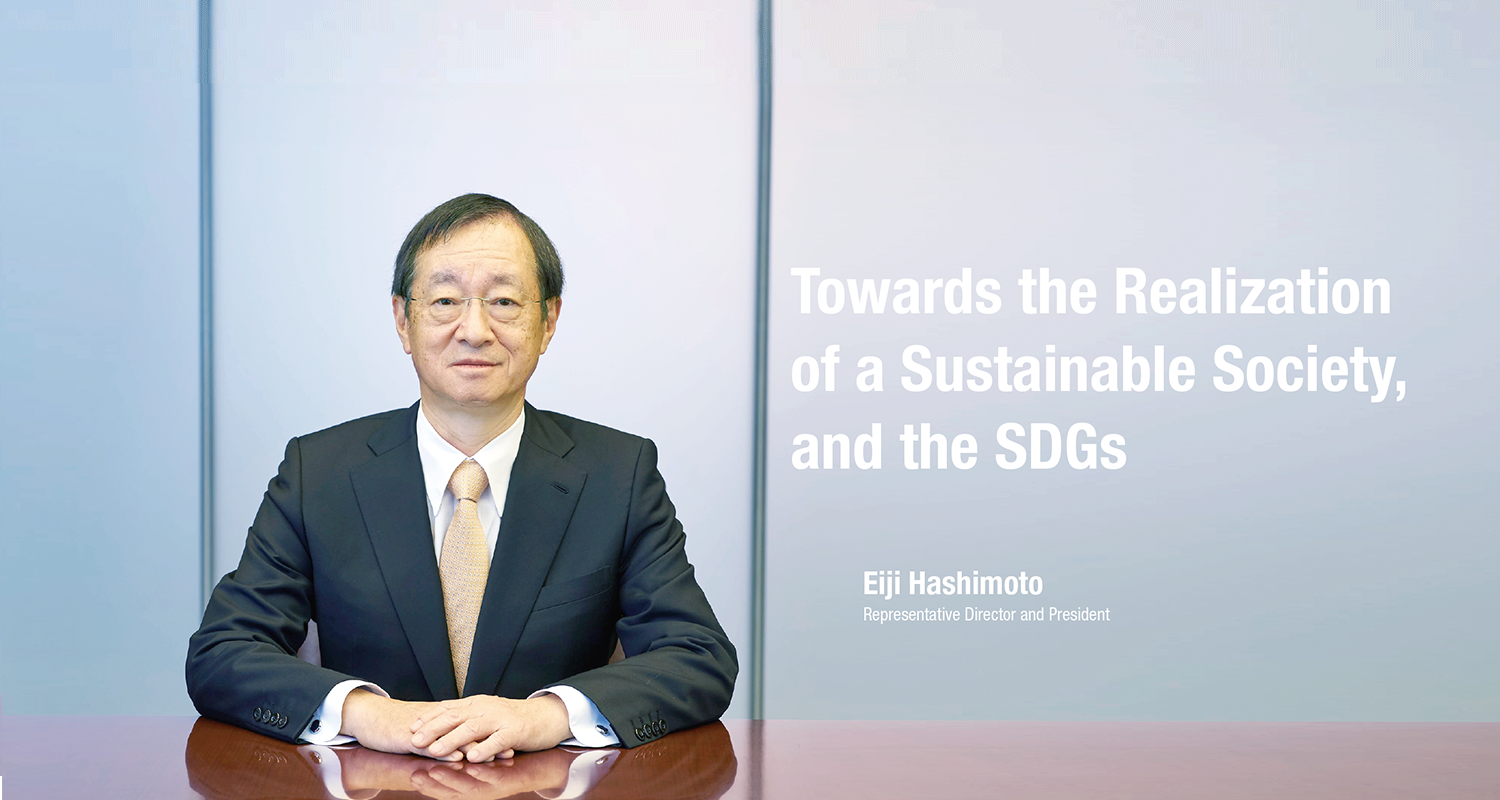 Message from the President
I would like to thank our shareholders and all other stakeholders for your understanding and support to the Nippon Steel Group.
In March of this year, we announced a new medium- to long-term management plan, with the aim of continuing to grow to "become the best steelmaker with world-leading capabilities," that supports Japan's industrial competitiveness. One affirmative policy in the plan is our approach to the "Challenge of carbon neutrality" We have identified the challenge as being to radically reduce CO2 emissions through the development of breakthrough technologies and believe this to be our greatest priority issue. Our basic approach is to win the development competition with other countries and continue to lead the world's steel industry. Through these efforts, we are committed to establishing a virtuous cycle of environmental sustainability and corporate growth and improving corporate value.
Environmental initiatives
Having positioned environmental matters as priority issues that underlie our corporate management as stated in our Basic Environmental Policy, we have pledged to contribute to the creation of a society oriented toward environmental preservation and with low environmental impact. We continue to proactively undertake diverse environmental issues concerning wide-ranging areas of concern, from local communities to the entire planet, including climate change issues, creation of a circular economy, and maintenance and enhancement of a favorable living environment.
While we are advancing initiatives for the Sustainable Development Goals (SDGs) adopted by the United Nations, we recognize climate change issues as a priority problem that may threaten survival of the human race.
The Challenge to carbon neutrality has two aspects. The first aspect is our action to contribute widely to the realization of a green society through providing users with our technology and products in Japan and overseas. This also a business opportunity for us. As an upfront investment in this effort, we have decided to make investment in improving the capacity and quality of electrical steel sheets, and in building a next-generation hot-rolling mill at the Nagoya Works.
The second aspect is a challenge to develop a new production process aimed at radically reducing CO2 emissions in the manufacturing process. This requires a challenging advanced technical development, including in unexplored areas. This is by far the most difficult challenge in the history of the steel industry. We are taking this dramatic change in the business environment as a great opportunity to reestablish our overwhelming superiority in the world steel industry, and we are determined to actively address it as a top management issue. By taking advantage of our world's best technology development capabilities, we will take on the challenge to develop a carbon neutral production process ahead of other countries and start actual use of it by 2050. Further, we intend to provide carbon neutral steel and thereby contribute to our customers' reduction of CO2 emissions.
Through the development and practical implementation of breakthrough technologies ahead of other countries, we aim to reduce CO2 emissions by 30% compared to 2013 in 2030 and achieve carbon neutrality in 2050. Carbon neutrality, however, cannot be achieved by the challenge of the steel industry alone. It is indispensable for the entire society to make efforts toward carbon neutrality. In addition to the steel industry's efforts on R&D and equipment installation concerning Carbon neutrality, the society's efforts at the establishment of an infrastructure capable of supplying abundant, inexpensive hydrogen as well as the realization of a low-cost, stable carbon-free power supply are needed. We also need a system for society as a whole to bear the enormous costs associated with these efforts toward decarbonization. Various difficulties and issues will be ahead of us but, in collaboration with the government, this including the utilization of the Green Innovation Fund, we will boldly take up the challenge toward the realization of Carbon neutrality.
From the viewpoint of promoting economic growth while building a sustainable society, the right response to the imperatives of a circular economy is essential. Steel is a material which can be easily taken out of a present use and endlessly recycled without causing deterioration in quality. Steel can be described as a perfect embodiment of a circular economy. Nippon Steel is also actively engaged in use of by-product generated in steelmaking for achieving zero emission. We also recycle 100% of plastic containers and packaging generated in society and collected by us. In addition, in accordance with the Law for Promoting the Recycling of Plastic Resources enacted this year, we are considering to expand the amount of plastic waste processing we do, by including general waste plastics. We are committed to contributing to the realization of a circular economy by means of further technological innovations.
Concerning maintenance and improvement of the living environment in our communities, what we focus on is environmental risk management, including prevention of accidents and undesirable conditions or events. This is our priority issue for continuing business, along with safety and disaster prevention. In addition to compliance with laws and regulations, we strictly adhere to the ordinances and standards of municipalities, and give due consideration to the conditions of each base of operations, thoroughly taking measures from both hard and soft aspects to reduce environmental burden.
With regard to biodiversity preservation, we have long been involved in the "Creation of a Hometown Forest" at each steelworks, and "blue carbon" activities designed to create seaweed beds and absorb CO2 in coastal waters. We have developed various initiatives that harmonize nature protection and production activities. Also, we formally expressed our support to Keidanren's Declaration of Biodiversity and Action Policy and are promoting its activities in accordance with our policy of action based on this. As initiatives to establish a society co-existing with nature are both regional and global issues, we intend to incorporate them in our business activities and to execute environmentally integrated management, with the aim of realizing a sustainable society.
Social initiatives
We declare in our Corporate Philosophy to pursue world-leading technologies and manufacturing capabilities, and contribute to society by providing excellent products and services. This resonates with the concept of the United Nations' Sustainable Development Goals (SDGs). Our Eco Products initiatives can be regarded as representative examples. We are eager to continue to prevail as a company that helps solve diverse social issues through its business activities.
In this report, we are presenting our engagement with various stakeholders as well as our response to social issues. Specific themes include the safety, disaster prevention, and quality, respect for human rights, diversity and inclusion, supply chain management, and coexistence with the community and society. Compared to the report of last year, we have enhanced the introduction of business activities that respect diverse values and human rights issues, and of diversity and inclusion.
In order to live up to our Corporate Philosophy of contributing to the development of society and to be continually trusted by everyone, we are committed to fulfilling our social responsibility.
Towards enhancement of governance and sustainable growth of the company
We have developed a corporate governance system suitable for the Group's business in order to promote sound and sustainable growth and to improve medium- to long-term corporate value. Since 2020, we have changed our corporate structure to that of a Company with an Audit & Supervisory Committee, etc. and have been working to speed up management decision-making and strengthen the supervisory function of the Board of Directors.
ESG initiatives are considered as one of our priority management issues, which form the base that supports sustainable corporate growth. We have identified key ESG challenges (materiality) that should be addressed in a focused manner, with due consideration to our corporate principles, values, stakeholders' expectation, and our growth strategy. We intend to steadily promote its execution and follow-up by checking Key Performance Indicators to assess outcomes.