IT Organization and management
Organization and Human Resources
Organization
In our organizational reform in 2001, we set up "Business Process Innovation Div." (BPI Div.) in charge of pushing ahead with system planning, design and development in a way to contribute to process innovations in tie-up with internal users, aiming to promote our company-wide system controls and new system planning, design and development.
In April 2016, we set up new expert team "Advanced Application Technology Planning Department" in BPI Div. and have been pushing ahead with utilizing and deploying advanced IT solutions more than ever because utilization of advanced IT solutions such as big data analysis and artificial intelligence is becoming a new challenge.
Furthermore, in this April 2017, we set up "Information security management department," because security risks are becoming more critical and we come to the conclusion that security function shall be strengthened. This team is missioned to clarify roles and responsibilities of security management system of our entire group and enhance quickness in response to up-coming threats and challenges.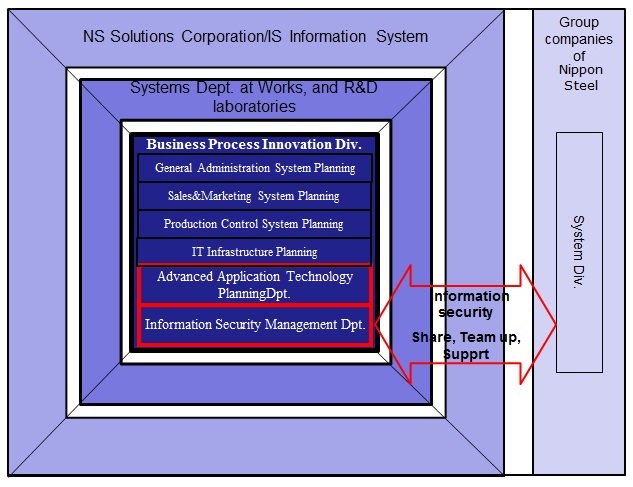 Human Resources
We are fostering human resources in accordance with our yearly training plans applicable from junior staff and following up the progress semiannually. In addition to our internal training sessions, we accelerate fostering our human resources by holding networking events with human resources in other firms or sectors and joint training programs in tie-up with our information system subsidiaries and expanding and sharing knowledge base.
We also grasp our staff members' individual skill levels and visualize what should be trained at the individual and organization levels.
Investment management
Make plans of investment
New technologies require evaluation before we put them in practice; therefore, BPI Div. plays core roles in conducting demonstration experiment and validation process in tie-up with information system subsidiaries or, in some cases, with IT vendors, and confirm feasibility and effectiveness of technologies. When putting new technologies in practice, we develop appropriate plans by checking up consistency with our architecture policies, including compatibility with our existing IT infrastructures.
We also check an inventory of existing IT infrastructures and business systems every year, and make plans and do the renewal and enhancement of old or vulnerable IT infrastructures in a timely manner.
Evaluate and improve investment
To ensure return on investment, especially on a large-scale or strategic one, BPI Committee, where the vice president for business process innovation serves as the chairperson, makes investment decisions on it and follows up the progress or outcomes based on predetermined KPIs, in accordance with the investment schemes shown below.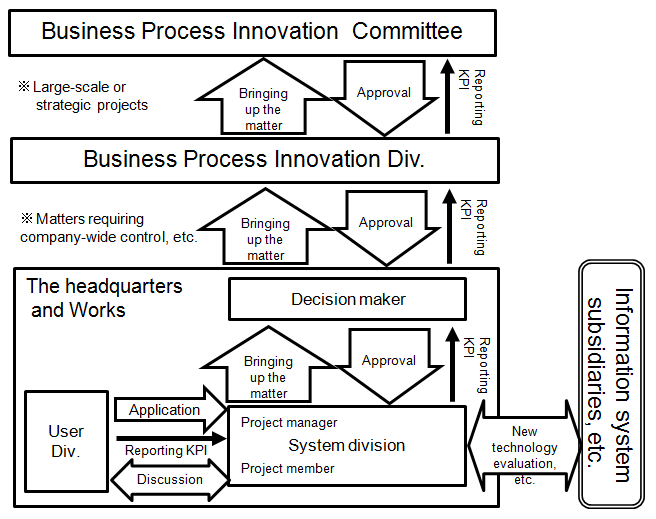 IT Risk management
We share information within the company or among our affiliate firms by the following bodies of meetings held regularly:
<Company-wide>
Information System Risk Management Committee (the head of BPI Div. serves as the chairperson)
<Group-wide>
Group information system risk management meetings
Group information security council
We also manage serious incidents and report them to corporate management-level Risk Management Committee.