Offering of Environmental and Energy Solutions
Nippon Steel and its group companies manufactures and provides steel products with excellent functions, and thereby contributing to reducing the environmental burden throughout their entire supply chain. Specific activities include energy conservation, resource saving, and the removal of harmful substances.
Japan's steel recycling (example from FY2015)
Steel stock manufactured by steelmakers is supplied to society in the form of iron and steel products. After being used and collected, they are recycled as scrap, together in good balance with in-house scrap generated by steelmakers and process scrap generated during the processing of steel stock. The blast furnace method that uses iron ore as the main raw material and the electric furnace method that uses scrap as the main raw material complement each other to transform iron into necessary applications. Thus, iron is a material that contributes to the sustainable development of society.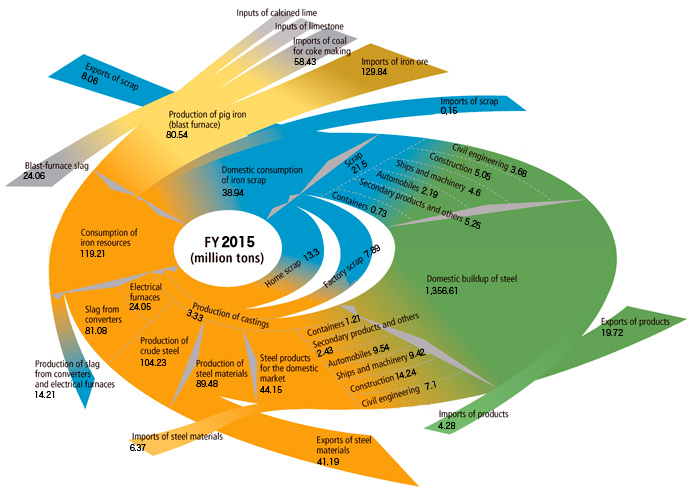 Manufacture of eco products (environmentally friendly products) that take into account LCA
Various highly functional steel, such as high-tensile steel sheets and magnetic steel sheets, are indispensable for hybrid vehicles, energy conservation equipment, and power generation facilities, including wind power, solar power, and atomic power, which support the mitigation of global warming. In order to realize a recycling-oriented society, it is necessary to use products that have a long life and that are highly recyclable. In order to meet these needs of society, Nippon Steel offers eco products that reduce the burden on the environment to the maximum extent, within the flow of: "mining raw materials → transportation → manufacturing of steel materials → forming and assembly of parts and members → use of the product by the customer → recycling," by means of its technical development strength – one of the best in the world – and based on the philosophy of LCAA system of assessing the environmental impact of a product, based on an integrated life cycle approach encompassing the mining and transportation of raw materials, production of base materials, and manufacturing and assembly of parts, as well as the use, recycling, and disposal of the product.(Life Cycle Assessment).