Activities for Reducing Environmental Risks
Atmospheric risk management
In order to reduce emissions of sulfur oxides (SOx) and nitrogen oxides (NOx), Nippon Steel is taking measures such as using low-sulfur fuel, adopting low NOx generating burners and installing effective equipment, including equipment that reduces SOx and NOx emissions. To curb emissions of soot and dust generated from factories and raw material yard, we try to enhance their collection by installing dust collectors and prevent scattering of particles by installing windscreens and sprinklers, based on air pollution risk analysis through scientific simulation. We also conduct constant monitoring and regular patrols to ensure that no abnormal emissions are released outside.
With regard to mercury, it is contained in waste gas is effectively captured by dust collectors or is absorbed by activated coke or activated charcoal so as to reduce mercury emission in the air. In April 2018, the Revised Air Pollution Control Act became effective and has regulated the mercury concentration in emission gas for waste incinerators. Our facilities conform to the regulations.
For sintering furnace and electric furnace for steelmaking, the Revised Air Pollution Control Act specifies companies to promote voluntary initiatives to control emission of mercury. Nippon Steel's sintering furnaces and electric furnaces have already installed emission gas treatment systems that are effective in capturing mercury. In April 2018 the Japan Iron and Steel Federation established a voluntary management standard concerning mercury concentration and decided to regularly measure the amount of emission, and evaluate as well as disclose the status of achievement of the voluntary standard. Through such efforts, we strive to prevent emission of mercury into the air.
Water risk management
Nippon Steel uses approximately 6 billion m3 of freshwater a year at all of our steelworks and factories combined. Approximately 90% of this is re-circulated or reused. We try not to waste precious water resources, and to control wastewater discharge. To achieve this, we make daily efforts to maintain and improve the performance of wastewater treatment equipment, and the inspection and control of wastewater quality.
In consideration of the importance of preventing water pollution, we have installed devices such as detectors, control valves, and emergency water storage pits. We also strive to check, repair, and maintain equipment in order to prevent water pollution, and to train our personnel in methods of checking of operations and controlling work procedures.
Moreover, our steelworks have taken measures, such as to install a large storage tank so that water tainted with iron ore powder would not directly be released into the sea even if our steelworks were struck by a local torrential rain caused by weather abnormality.
If there is a crack in an embankment facing the sea, there is a risk of a leakage of groundwater with unknown contaminants. In order to prevent this, the embankment is regularly inspected from the sea side to maintain and manage it in a sound condition. In areas with potential risk of leakage of water which may exceed permissible levels of contaminants, a board or sheet water barrier may be installed so as to prevent leakage even if a crack develops on the embankment.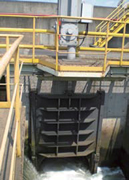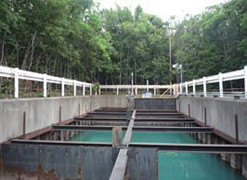 Soil risk management
We are taking appropriate measures in compliance with the Soil Contamination Countermeasures Act, guidelines issued by the Ministry of the Environment, local government ordinances, and so on. We report to the local government when performing landform modification work such as excavation which is required to be reported. We conduct pollution surveys when needed.
Starting in fiscal 2018, the Revised Soil Contamination Countermeasures Act is being enforced in stages will be expanded. We will continue to comply with relevant ordinances.
Noise, vibration, and odor
We comply with environmental rules and regulations and continue to promote measures against sources of noise, vibration, and odor.
Asbestos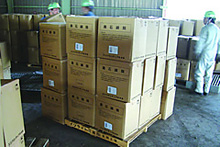 Long before asbestos-caused health problems became a social problem, we banned purchase of asbestos and took steps to shift from asbestos to alternatives. The remaining portion of asbestos-sprayed materials within the works was disposed or contained, eliminating the scattering of asbestos fibers in the air. The products which contained non-diffusive asbestos and had been in existing facilities are gradually being replaced by alternative products at the time of repair. Since the enactment of asbestos-related regulations in 2006 we have complied with the rules calling for prior notification of plans to dismantle buildings or workplaces, the standards for isolating work area, and other requirements.
Initiatives on biodiversity
With the aim of conserving biodiversity in the communities where it operates business, Nippon Steel performs the Environmental Impact Assessments to measure impact on biodiversity at the start of a new business, such as independent power generation. As for our important bases, in particular, on top of preventing negative impacts, we take initiatives to improve the natural environment. Examples include creation of forest where a diversity of animals live, through tree-planting and other activities. Another initiative is creation of "sea forests," which promote regeneration of seaweed beds, jointly with Mashike Town, Hokkaido. We make efforts to conserve biodiversity by working together with various stakeholders, including municipalities, NPOs, and academic institutions.